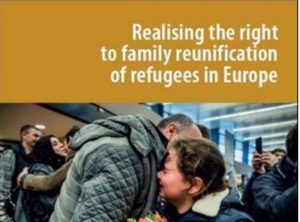 In the case of refugees, broadly understood, the right to respect for their family life requires swift and effective family reunification.
For refugees, the right to family reunification is crucial because separation from their family members causes significant anxiety and is widely recognised as a barrier to successful integration in host countries. Well-designed family reunification policies also help create the safe and legal routes that are necessary to prevent dangerous, irregular journeys to and within Europe.
Despite the importance of facilitating family reunification for both refugees and European states, the trend is now towards imposing greater restrictions in this area. This paper assesses restrictions on the right to family reunification, as enshrined in United Nations human rights treaties, the case law of the European Court of Human Rights and European Union law, and shows that many of the legal and practical restrictions currently in place raise concerns from a human rights perspective.
Based on this analysis, the Council of Europe Commissioner for Human Rights sets out a number of recommendations to member states intended to assist national authorities in re-examining their laws, policies and practices in order to give full effect to the right to family reunification, for the benefit of both refugees and their host communities.